Breakfast, brunch and Café superstar
Generator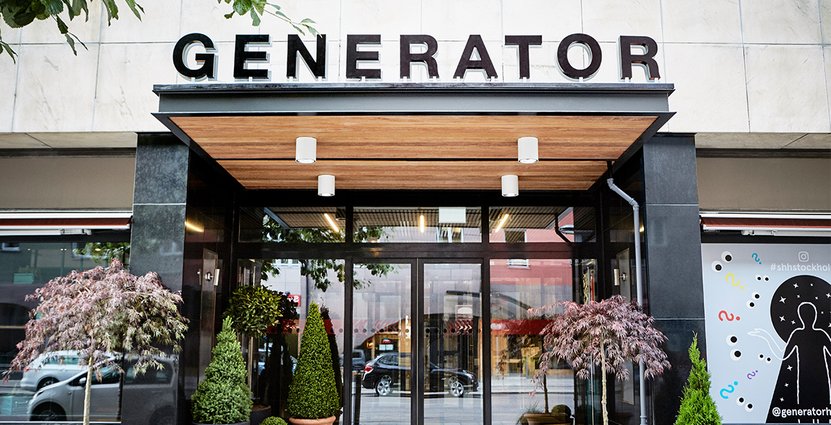 We need an exceptional and passionate food and beverage professional to join our F&B team. If you are motivated, organised, a people person through and through and have a genuine desire to be part of something big then your journey should start here. Help us to create an unforgettable experience & be a part of Europe's fastest moving, ground-breaking, lifestyle & hospitality brand. Join Generator, be yourself.
Who are we?
Generator is on a journey. Appropriate, given that we're an accommodation brand. The journey began in London, swung through a heap of European capitals on its way to dominating the world. No biggie. Fast Company named us one of the top 50 most innovative global companies. We, of course, agree. And now this top 50 most innovative global company (did we mention that?) wants a pretty awesome Breakfast, Brunch and Café superstar for Generator Stockholm.
Our spaces are safe and seriously social, in the proudest part of the beating heart of the cities we love. Cultural action, creative pulse and an outstanding way to waste some of the finite time the universe has given you – that's what Generator offers. Holds true for staff and visitors equally, and while chic design is always the backdrop, every Generator in every destination reflects the unique beat of that city's heart.
Being yourself is the key to bringing the Generator story and brand to life.
About Generator Stockholm
Generator Stockholm not only highlights the rich cultural history, unique social fabric, and a strong sense of design and patterning, but brings together said creative design with inspired art, great food, drink, and on-trend music and events to create a Stockholm hot spot. Reflecting the city's vibrant and eclectic culture – you'll experience all that Stockholm has to offer at its best, all by staying here.
Nuts and bolts of the job
• Report to the F&B Manager
• Be assigned to a department, either Hilma or our Cafe, but you may cross over to other outlets temporarily or permanently depending on your skills, ambitions and business requirements
• Have sound knowledge and experience working with great coffee and food with the courage to offer something a little different to the Generator guest
• Take ownership of the guest journey to ensure that we create a truly unique Generator experience.
• Respond quickly and efficiently to all customer requests and enquiries, ensuring that you maintain a "can do" attitude at all times
• Ensure you comply with all company policies you have been trained on, which include Fire Training and Health & Safety and Food Hygiene
• Be responsible for all transactions whilst on duty
• Be part of a great team within your department that get Generator and want to be themselves
• Know your customers like you know your friends
Naturally this is not intended as an exhaustive list of duties. Other duties as may be reasonably required will form part of this job description.
What´s in you DNA
• Love good coffee, craft beer and great food
• Always keep cool under pressure
• Know your way around a bar and coffee machine
• Upselling is in your blood
• Show commerciality with a strong passion for driving revenue
• Understand stock-control and keep costs to a minimum
• Be creative, innovative and digitally smart
• Be a 'people person', social and always love our guests
• Like getting your hands dirty, wherever, whenever, because you will
• Be an excellent communicator
• Available to work when needed
• Swedish proficiency or another Nordic language is mandatory for this role
• You must be eligible to work in the EU to be considered for this role
Your rock star experience
• Experience working within the hospitality/service industry
• A passion for your city, for travelling and for trending food and drinks concepts
• Knowledge of contemporary interests and the city
• Have a genuine interest and enthusiasm for service
Our global employee benfits
• Birthday holiday in addition to your yearly holiday allocation
• Employee Bounty Program providing opportunities to earn up to €1,000 for new hire referrals with no cap on number of referrals made
• Company contribution towards gym membership fees for all eligible employees
• Ideas Award – Quarterly award to double gross basic salary for 1 month to employee with most valuable suggestion/feedback
• 2 free nights' accommodation across any hostels (subject to availability)
• Reduced room rates for staff as well as friends and family members (we operate in 15 locations across Europe & US so your next holiday is sorted)
• Social events and celebrations calendar
• Various employee recognition schemes
• Online learning tools
SO YOU THINK THIS MIGHT BE YOU?
That's cool. Send us your application in English or Swedish.
Send Applications to:
Brent.gibbs@staygenerator.com
Generator on social media:
www.facebook.com/stayGENERATOR/
www.twitter.com/AskGenerator
www.instagram.com/staygenerator/
https://www.youtube.com/user/TheGeneratorHostels
Here you may well find the answers to life, the universe and everything, including why there are no penguins at the North Pole. We look forward to hearing from you.
Join Us and help us achieve our Vision!
Ange i ansökan att du sett annonsen på besoksliv.se. Se även alla våra lediga jobb på Besöksliv Jobb på Facebook